Decorre entre os dias 7 e 10 de novembro a terceira edição da Escola de Outono intitulada "Science Bootcamp to Boost Your Research Hands-On Skills". A iniciativa tem como objetivo aproximar doutorandos e pós-doutorandos para aprimorar competências práticas de investigação.
As inscrições estão abertas até dia 22 de setembro. 
Mais informações aqui.
Keynote Speakers
Ana Marta Flores, ICNOVA/University of Coimbra
Casey Fiesler, University of Colorado Boulder
Katherine E. McDonald, Syracuse University
Kim Christian Schrøder, Roskilde University
Stefania Milan, University of Amsterdam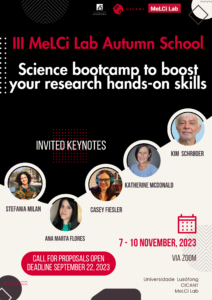 A terceira edição da Autumn School é organizada pelo Media Literacy and Civic Cultures Lab – MeLCi Lab (Universidade Lusófona, CICANT).