Maria José Brites, PI do projeto YouNDigital, ministrou o workshop "Participatory research: Working with audiences to generate social impact" no dia 2 de novembro na Universidade de Groningen, nos Países Baixos.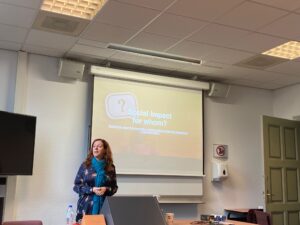 A investigadora foi uma das especialistas convidadas a participar do "RMeS Workshop: Designing research to generate social impact: Amplifying diverse voices in media research", organizado por Alexander Smit e Denise Mensonides (RUG), no âmbito do RMeS PhD Workshop Grant.
RMeS (the Netherlands Research school for Media Studies) é uma rede de investigadores dos Países Baixos centrada nos estudos dos média. Doutorandos e mestrandos que integram a rede RMes participaram do evento.